NO MORE DULL BLOTCHY MESS, DE'LA IS THE BEST PALETTE FOR THAT BUTTERFLY DREAM LOOK WHICH POP'S ON ANY SKIN TONE.
OMG! Surprise, Satisfaction, and Giddy Excitement
Do you remember that time you opened your best gift in the world?

 

De'La  is really pretty and delivers that

 

OMG

 

moment all over again. Feel that

 

rush of excitement of how stunning it looks

 

and not being able to wait to wear it out for the first time.
De'La

 

packs

 

24 vibrant colours

, including

 

5 flaky pentagram glitters

 

for endless imaginative styles! Colours are

 

beautiful and bright

 

in standard lighting but only glow when there is UV / Blacklight. The rainbow is at your disposal to

 

mix and match your favourite colours.
Smooth and Versatile to Use
Your most versatile palette in ages and easily the best bargain. 
If you love festivals, then your going to just love 

De'La  

Palette, but it's also for kids birthday parties, disco dance floor, Midnight rave run, night events, stage performance, fancy dress costume themed parties, plays, cosplay, Halloween , vampire, animal, witch or Christmas, Christmas/Halloween makeup. 

For Professionals or beginners, Adults or children.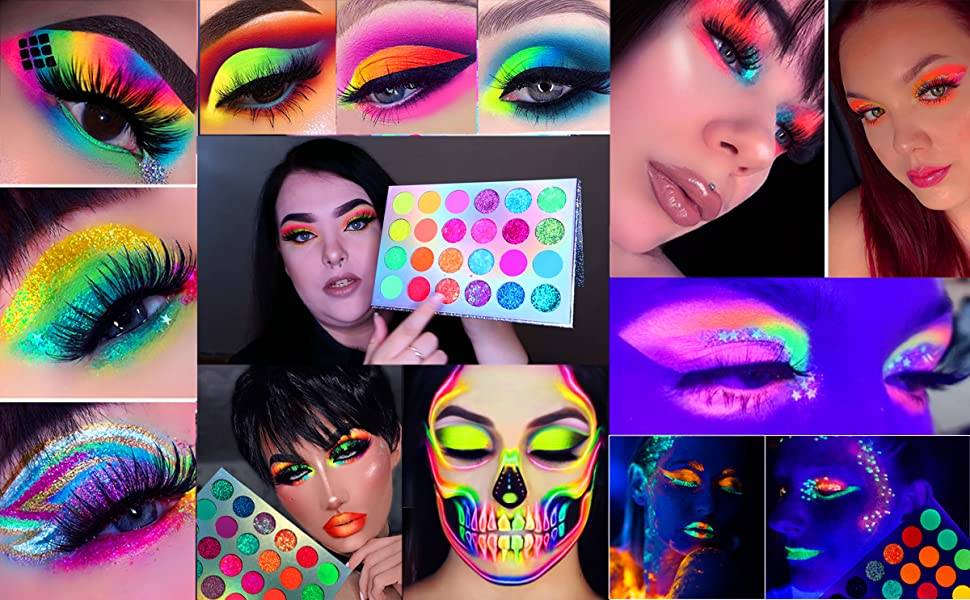 Shatter all that you think about your skill and Ascend to a Ph.D. in pigmentation. 
Shine brighter than the stars at night and show off your artistic skills in the flashiest of ways! You do not need to be a pro at applying makeup, with 

De'La

 you can easily apply and perfect the solid glitter eyeshadow look. The night is worth remembering when you look like a neon goddess! With 

De'La

 pallets, your eyeshadow will be more pigmented, and no look is hard to achieve. Highlight your style with 

neon sparkles

 to become the party's queen!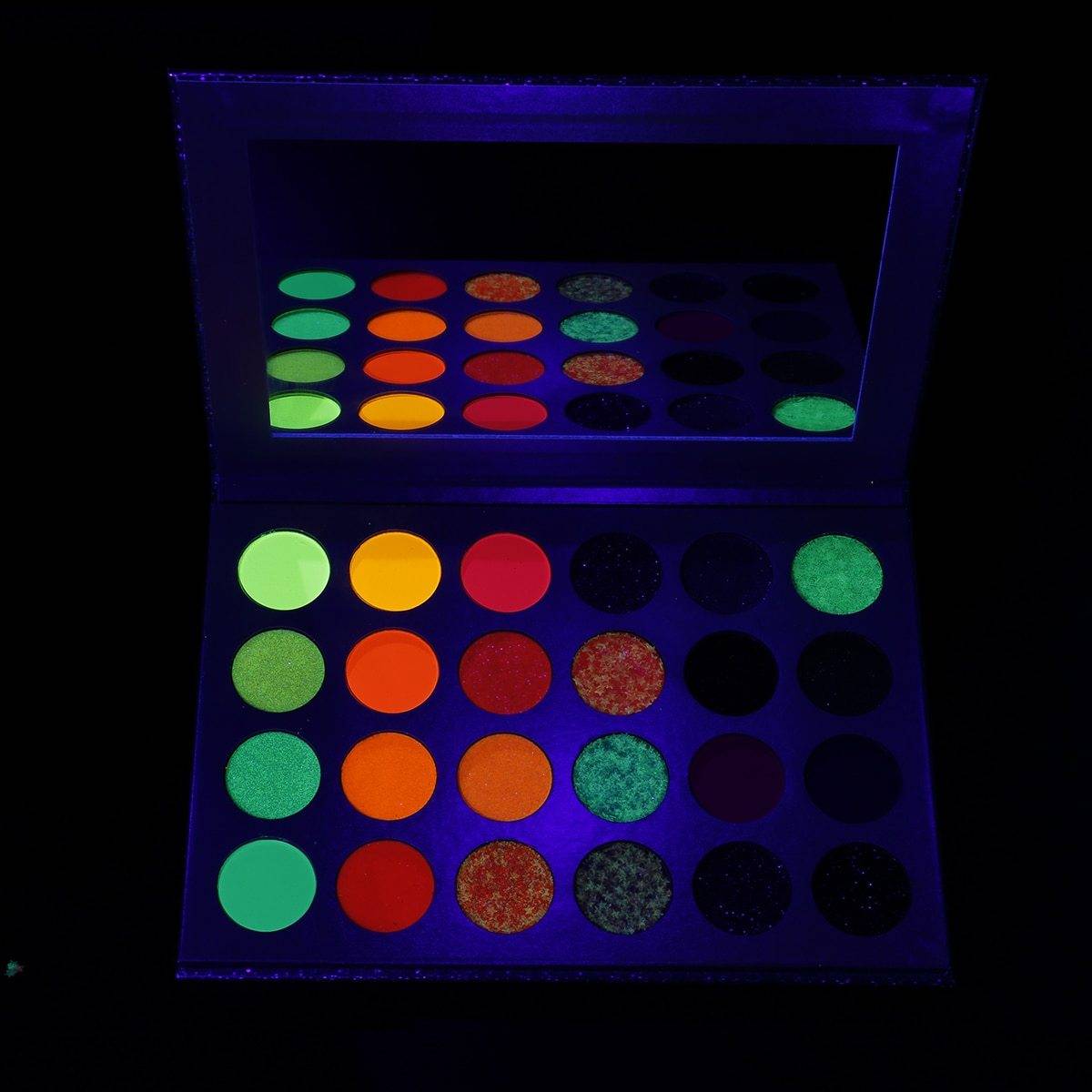 Glitter and Glow with glamour
De'La

 vividly glows in the dark to highlight every detail! Witness its splendid allure as it shimmers on even the darkest of skin tones. 

De'La

 is bold and gives amazing coverage, and shows off your colorful personality in the best way possible!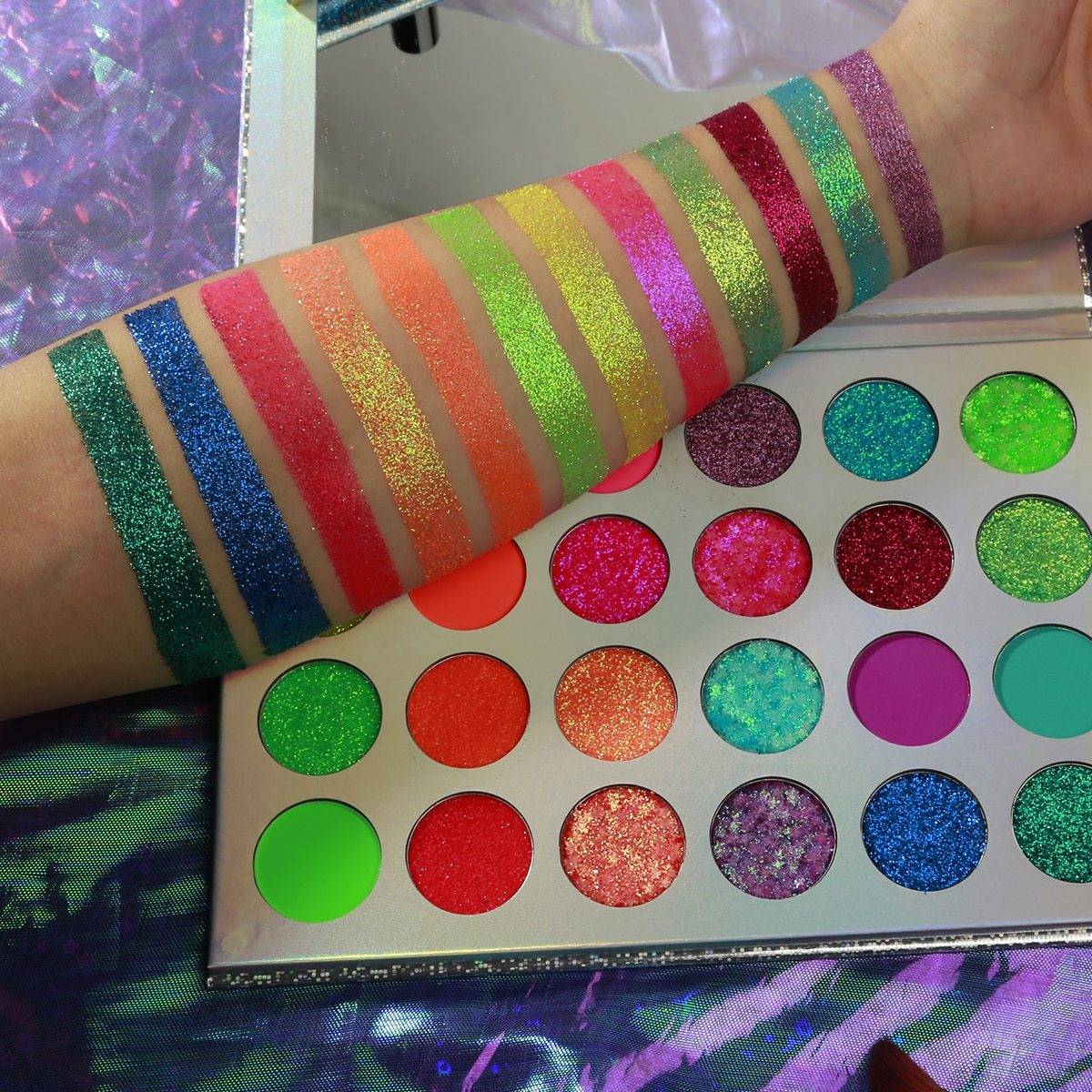 "If you love makeup or glitter the De'La palette is really a no-brainer!" 
De'La

 palette comes with a big mirror that will offer you unparalleled versatility and convenience. Doll up yourself in glam and apply over eyeshadow primer to keep glitter in place and waterproof. No more glitter and shimmer flying!
Easy to apply for both starters and pros.

Easy to highlight the level of stereoscopic eyes, make your eyes pop, cut-crease, and smokey eye

s.

 
Safe ingredients and great quality, Hypoallergic, skin-friendly, Cruelty free. Colors easy to apply & wash off. As with all cosmetics, a small skin patch test is recommended before using.     
Shipping $4.95.
Delivery
Standard shipping time is 10 to 20 business days (United States), 10 to 20 business days (Rest Of The World) to ship and arrive.
Why Us?
We work directly with manufacturers all over the world to ensure authenticity and the best quality of our products. We have a Quality Control department which helps us to keep our promise!
Price is always competitive.
Awesome Customer Service
Amazing products along with High Quality
Read reviews below from our lovely customers.
Click ADD TO BAG To Order Yours Now!
We have 24/7 Monday-Saturday support from worldwide Facebook messenger chat and email support available, chat with an agent now!
BodiModi Did you know ?
" Your teeth actually have pores !! Yes indeed, you read that right! Although teeth may appear at first sight to have a smooth dense surface,  they actually contain thousands of microscopic pores. It's these pores that absorb stains from the various beverages and foods that you consume. It's also these same pores that open slightly during a teeth whitening treatment to enable stains from within to be lifted out. Once whitening has finished, the teeth naturally remineralizes and rehydrate themselves, and the pores shut.."